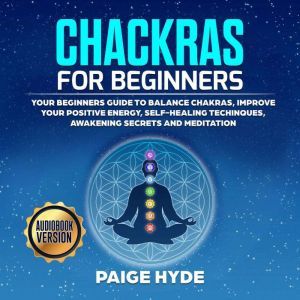 List: $9.95

| Sale: $6.96
Chackras for beginners: Your beginners guide to balance chakras, improve your positive energy, self-healing techinques, awakening secrets and meditation.
Format: Digital Audiobook Download
---
Synopsis
It is true that there are tons of websites on the Internet that talk about chakras; but what exactly is there?Studying the chakras is not learning things like "spiritual" students do, because in the end does not bring anything or not much. Theobjective of this course is to make you discover the technology of the No Name by understanding that large philosophical rules are found materially in your different bodies. I am not a therapist of the physical body and, in a way; repair the body is only doing the plastering on a ruined wall. My goal is to help you better understand the structure of the wall so that you stop to avoid him by ignorance. Thus, through a better understanding, you will rediscover the deity and perfection that you inhabit. Clearly, for external sores (a consequence of an internal dysfunction due to ignorance), continue to appeal to those who have this knowledge until you regain full control of who you are.