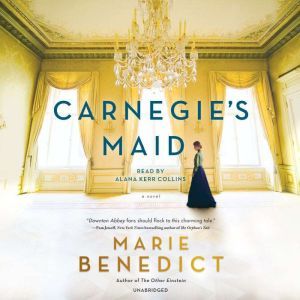 List: $20.00

| Sale: $14.40
Carnegie's Maid
Format: Digital Audiobook Download
---
Synopsis
From the author of The Other Einstein, the mesmerizing tale of what kind of woman could have inspired an American dynasty.

Clara Kelley is not who they think she is. She's not the experienced Irish maid who was hired to work in one of Pittsburgh's grandest households. She's a poor farmer's daughter with nowhere to go and nothing in her pockets. But the other woman with the same name has vanished, and pretending to be her just might get Clara some money to send back home.

If she can keep up the ruse, that is. Serving as a lady's maid in the household of Andrew Carnegie requires skills he doesn't have, answering to an icy mistress who rules her sons and her domain with an iron fist. What Clara does have is a resolve as strong as the steel Pittsburgh is becoming famous for, coupled with an uncanny understanding of business, and Andrew begins to rely on her. But Clara can't let her guard down, not even when Andrew becomes something more than an employer. Revealing her past might ruin her future -- and her family's.

With captivating insight and heart, Carnegie's Maid tells the story of one brilliant woman who may have spurred Andrew Carnegie's transformation from ruthless industrialist into the world's first true philanthropist.