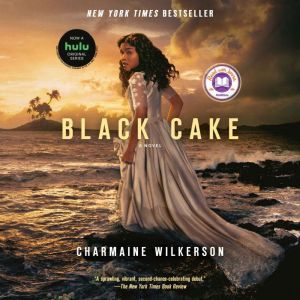 List: $22.50

| Sale: $16.20
Black Cake


A Novel

Bestseller

Format: Digital Audiobook Download
---
Synopsis
In this version of the Black Cake audiobook, narrators Lynette R. Freeman and Simone Mcintyre bring this complex family drama to life with committed and energetic performances.

In this moving debut novel, two estranged siblings must set aside their differences to deal with their mother's death and her hidden past—a journey of discovery that takes them from the Caribbean to London to California and ends with her famous black cake.

"At turns delightfully juicy and then stunningly wise, Black Cake is a winner."—Taylor Jenkins Reid, New York Times bestselling author of Malibu Rising

ONE OF THE MOST ANTICIPATED BOOKS OF 2022—Glamour, Bustle, Marie Claire, Essence, Parade, Business Insider, Town & Country, Vulture, PopSugar, W magazine, BookPage

In development as a Hulu original series produced by Marissa Jo Cerar, Oprah Winfrey (Harpo Films), and Kapital Entertainment

We can't choose what we inherit. But can we choose who we become?

In present-day California, Eleanor Bennett's death leaves behind a puzzling inheritance for her two children, Byron and Benny: a traditional Caribbean black cake, made from a family recipe with a long history, and a voice recording. In her message, Eleanor shares a tumultuous story about a headstrong young swimmer who escapes her island home under suspicion of murder. The heartbreaking tale Eleanor unfolds, the secrets she still holds back, and the mystery of a long-lost child, challenge everything the siblings thought they knew about their lineage, and themselves.

Can Byron and Benny reclaim their once-close relationship, piece together Eleanor's true history, and fulfill her final request to "share the black cake when the time is right"? Will their mother's revelations bring them back together or leave them feeling more lost than ever?

Charmaine Wilkerson's debut novel is a story of how the inheritance of betrayals, secrets, memories, and even names, can shape relationships and history. Deeply evocative and beautifully written, Black Cake by Charmaine Wilkerson is an extraordinary journey through the life of a family changed forever by the choices of its matriarch. Listen to the Black Cake audiobook on any device.