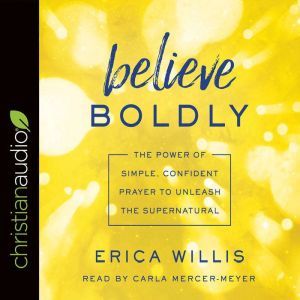 List: $14.98

| Sale: $10.49
Believe Boldly


The Power of Simple, Confident Prayer to Unleash the Supernatural

Format: Digital Audiobook Download
---
Synopsis
Learn to Unleash the Supernatural through Simple, Confident Praying

We long to see firsthand the power of God as displayed in the Bible. Miracles, prophecy, dreams, healing--most of these tend to be missing from our normal, safe, predictable faith. Yet we tend to view any movement of God outside our own experience with mistrust and confusion. But what if we've got "normal" all wrong?

In this audiobook is an invitation to a new way of living: embracing God's power through simple yet bold prayer. It's for the night owl, the caffeine-addicted, even the skeptic, beckoning all of us out of our comfort zones with stories of spiritual breakthrough, mind-blowing miracles, and physical healing. Here are the tools you need to work through your doubts, open up to the miracles of God, and walk in the power of the Holy Spirit. You will learn to hear God's voice, trust his leading, and walk empowered by limitless prayer. It is time to see God transform your faith into a thrill-seeking adventure.