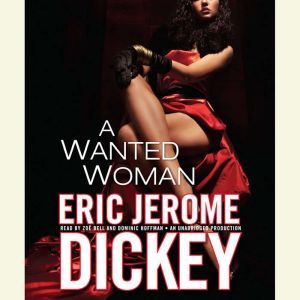 List: $22.50

| Sale: $16.20
Club: $11.25
A Wanted Woman
Format: Digital Audiobook Download
---
Synopsis
The twenty-first novel from New York Times bestselling author Eric Jerome Dickey, a steamy thriller set in tropical Barbados

She is a woman of a thousand faces, an assassin who could be anyone, anywhere.

The Trinidad contract was supposed to be simple: to make a living man become a dead man. When the job goes bad under the watchful eye of a bank security camera, there is nowhere for agent MX-401, known as Reaper, to hide from the fearsome local warlords, the Laventille Killers.  

Her employers, the Barbarians, send her to Barbados, the next island over, barely two hundred miles away, with the LK's in hot pursuit of the woman who took many of their own. With the scant protection of a dank safe house, no passport, and no access to funds, an island paradise becomes her prison.

While she trawls for low-profile assignments to keep her skills sharp and a few dollars in her pocket, Reaper discovers that family ties run deep, on both sides of the fight. Will the woman everyone wants, who has lived countless lives in the service of others, finally discover who she really is?

In A Wanted Woman, New York Times bestselling author Eric Jerome Dickey delivers an adrenaline-pumping rush of a listen.