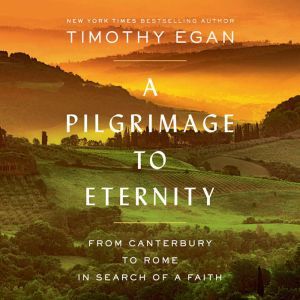 List: $22.50

| Sale: $16.20
A Pilgrimage to Eternity


From Canterbury to Rome in Search of a Faith

Format: Digital Audiobook Download
---
Synopsis
Tracing an ancient pilgrimage route from Canterbury to Rome, the bestselling and "virtuosic" (The Wall Street Journal) writer explores the past and future of Christianity

"What a wondrous work! This beautifully written and totally clear-eyed account of his pilgrimage will have you wondering whether we should all embark on such a journey, either of the body, the soul or, as in Egan's case, both." --Cokie Roberts

Moved by his mother's death and his Irish Catholic family's complicated history with the church, Timothy Egan decided to follow in the footsteps of centuries of seekers to force a reckoning with his own beliefs. He embarked on a thousand-mile pilgrimage through the theological cradle of Christianity, exploring one of the biggest stories of our time: the collapse of religion in the world that it created. Egan sets out along the Via Francigena, once the major medieval trail leading the devout to Rome, and makes his way overland via the alpine peaks and small mountain towns of France, Switzerland and Italy. The goal: walking to St. Peter's Square, in hopes of meeting the galvanizing pope who is struggling to hold together the church through the worst crisis in half a millennium.

Making his way through a landscape laced with some of the most important shrines to the faith, Egan finds a modern Canterbury Tale in the chapel where Queen Bertha introduced Christianity to pagan Britain; parses the supernatural in a French town built on miracles; and journeys to the oldest abbey in the Western world, founded in 515 and home to continuous prayer over the 1,500 years that have followed. He is accompanied by a quirky cast of fellow pilgrims and by some of the towering figures of the faith--Joan of Arc, Henry VIII, Martin Luther.

A thrilling journey, a family story, and a revealing history, A Pilgrimage to Eternity looks for our future in its search for God.