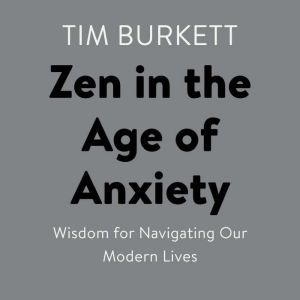 List: $15.00

| Sale: $10.80
Club: $7.50
Zen in the Age of Anxiety
Wisdom for Navigating Our Modern Lives
Format: Digital Audiobook Download
---
Synopsis
Zen wisdom for identifying the causes of mental and emotional anxiety epidemic in today's world and for finding the path to a peaceful heart in the midst of them--a path that leads directly though the center of the anxiety we're trying to escape.

Wrestling with fear doesn't have to be a negative experience. This book offers an approach to life that unlocks a new way of thinking and being in the world, one that leads directly through the center of the anxieties we seek to avoid.

Written in the style of an owner's manual, a guide to being human, Burkett focuses on areas of pain and anxiety as they tend to manifest for modern people: feelings of unworthiness, and issues surrounding sex, money, failure, and even death. Providing wisdom from Zen (channeled through his many experiences as a psychotherapist) and using language and metaphors from popular culture, he takes anxiety and teaches us to turn those fears into the building blocks of a fulfilling life.