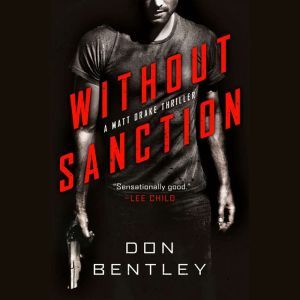 List: $20.00

| Sale: $14.40
Without Sanction
Format: Digital Audiobook Download
---
Synopsis
After surviving a clandestine operation that went tragically wrong, Matt Drake escaped Syria with his life, but little else. Now, to save the life of another, he must return to Syria and confront his biggest failure in a debut thriller Lee Child calls "sensationally good."

Defense Intelligence Agency operative Matt Drake broke a promise. A promise that cost three people their lives and crippled his best friend. Three months later, he's paralyzed by survivor's guilt and haunted by the memories of the fallen. Matt may have left Syria, but Syria hasn't left him.

In the midst of his self-imposed exile, Matt is dragged back into the world of espionage and assets that he tried to forget. A Pakistani scientist working for an ISIS splinter cell has created a terrifying weapon of mass destruction. The scientist offers to defect with the weapon, but he trusts just one man to bring him out of Syria alive—Matt Drake.