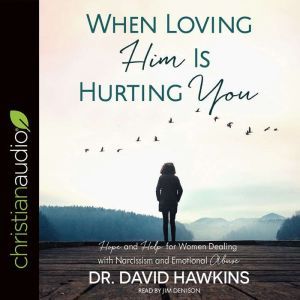 List: $14.98

| Sale: $10.49
Club: $7.49
When Loving Him Is Hurting You
Hope and Help for Women Dealing With Narcissism and Emotional Abuse
Format: Digital Audiobook Download
---
Synopsis
It's Okay to Have Needs of Your OwnYou fell in love with him. But over time you've come to realize he's in love with himself—and you feel trapped. His needs, his problems, and his plans always seem to take precedence over yours. 

Dr. David Hawkins, director of the Marriage Recovery Center, offers a guide to help you identify signs of narcissism, understand how your loved one's issues are affecting you, and prepare a biblical game plan for freeing yourself to live courageously in light of God's love. 

Whether the man in your life can be diagnosed with narcissistic personality disorder (NPD), exhibits narcissistic traits and emotionally abusive behavior, or has arrogant and self-centered tendencies, the emotional pain he causes you is very real. Discover the truths, wisdom, and grace you need to spark change in your relationship, set boundaries, and experience healing.