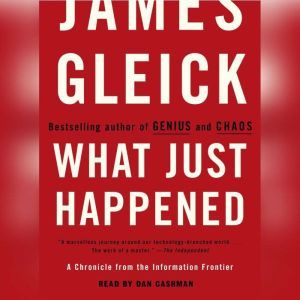 List: $17.50

| Sale: $12.60
Club: $8.75
What Just Happened


A Chronicle from the Information Frontier

Format: Digital Audiobook Download
---
Synopsis
Here's some of what just happened: Millions of ordinary, sensible people came into possession of computers. These machines had wondrous powers, yet made unexpected demands on their owners. Telephones broke free of the chains that had shackled them to bedside tables and office desks. No one was out of touch, or wanted to be out of touch. Instant communication became a birthright.

A new world, located no one knew exactly where, came into being, called "virtual" or "online," named "cyberspace" or "the Internet" or just "the network." Manners and markets took on new shapes and guises.

As all this was happening, James Gleick, author of the groundbreaking Chaos, columnist for The New York Times Magazine, and—very briefly—an Internet entrepreneur, emerged as one of our most astute guides to this new world. His dispatches—by turns passionate, bewildered, angry, and amazed—form an extraordinary chronicle. Gleick loves what the network makes possible, and he hates it. Software makers developed a strangely tolerant view of an ancient devil, the product defect. One company, at first a feisty upstart, seized control of the hidden gears and levers of the new economy. We wrestled with novel issues of privacy, anonymity, and disguise. We found that if the human species is evolving a sort of global brain, it's susceptible to new forms of hysteria and multiple-personality disorder.

What Just Happened is at once a remarkable portrait of a world in the throes of transformation and a prescient guide to the transformation still to come.


From the Hardcover edition.