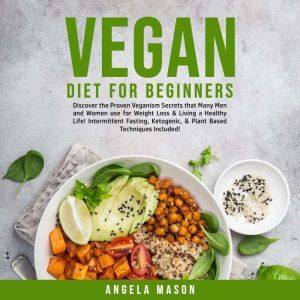 List: $15.97

| Sale: $11.18
Vegan Diet for Beginners: Discover the Proven Veganism Secrets that Many Men and Women use for Weight Loss & Living a Healthy Life! Intermittent Fasting, Ketogenic, & Plant Based Techniques Included!
Format: Digital Audiobook Download
---
Synopsis
If You're Curious About The Vegan Diet But Unsure How To Get Started, You've Just Found The Perfect audiobook For You!If there's one thing you can do for your health, do this:Eat more plants.This simple change to your diet will instantly boost your heart health, reduce the risk of diabetes and many cancers, and even help you achieve your ideal weight.And if you want to maximize the health benefits of plant-based nutrition, you can go full-out vegan!Vegan Diet For Beginners will guide you through every step of giving up animal foods. This easy-to-follow audiobook dispels myths, provides actionable tips, and answers the questions you've always wanted to ask.Here's what you'll find in this audiobook:? Why going vegan isn't just about being kind to animals? Tips that will help you transition to veganism and never miss meat again? Secrets to getting enough protein on the vegan diet? Expert-approved tricks for combining veganism with other nutritional strategies like intermittent fasting and the keto diet? Everything you've ever wanted to know about weight loss on the vegan dietSimply follow the advice you'll find in this audiobook to avoid nutritional mistakes and enjoy the countless health benefits of veganism!Scroll up, click on "Buy Now" and Try The Vegan Diet Today!