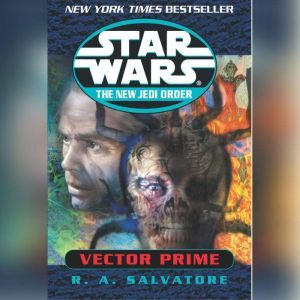 List: $9.99

| Sale: $7.20
Vector Prime: Star Wars (The New Jedi Order)
Format: Digital Audiobook Download (DRM Protected)
---
Synopsis
Twenty-one years have passed since the heroes of the Rebel Alliance destroyed the Death Star, breaking the power of the Emperor. Since then, the New Republic has valiantly struggled to maintain peace and prosperity among the peoples of the galaxy. But unrest has begun to spread and threatens to destroy the Republic's tenuous reign.

Into this volatile atmosphere comes Nom Anor, a charismatic firebrand who heats passions to the boiling point, sowing seeds of dissent for his own dark motives. And as the Jedi and the Republic focus on internal struggles, a new threat surfaces from beyond the farthest reaches of the Outer Rim--an enemy bearing weapons and technology unlike anything New Republic scientists have ever seen.

Suddenly, Luke Skywalker; his wife, Mara; Han Solo; Leia Organa Solo; and Chewbacca--along with the Solo children--are thrust again into battle, to defend the freedom so many have fought and died for. But this time, the power of the Force itself may not be enough . . .


From the Paperback edition.