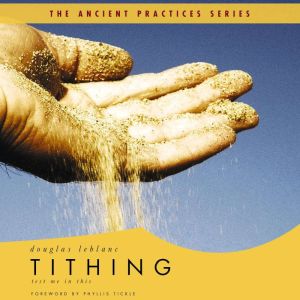 List: $18.99

| Sale: $13.29
Club: $9.49
Tithing


Test Me in This

Format: Digital Audiobook Download

Includes: Bonus Material

---
Synopsis
"'Bring the whole tithe into the storehouse, that there may be food in my house. Test me in this,' says the Lord Almighty, 'and see if I will not throw open the floodgates of heaven and pour out so much blessing that you will not have room enough for it.'" — Malachi 3:1 0

In these uncertain economic times, does it really make sense to tithe?

Douglas LeBlanc thinks the answer is clear enough in Malachi 3:10, where God goes so far as to tell us, "Test me in this." The people profiled in this book have done exactly that—and the effect on their lives has been dramatic.

In these intimate journalistic portraits, LeBlanc shows us true tithing in action. From members of the clergy, to best-selling authors, to social activists both conservative and liberal, these are the lives of real people who tithe in joy and plenty, in the face of poverty and natural disaster, in community and missionally, and as a spiritual practice commanded by God. They come from different backgrounds and live in varying degrees of financial comfort; but they all tithe—and wouldn't have it any other way. Through their eyes, we come to understand this ancient practice as God's call to a life of generosity, compassion, and joy.

A study guide is included in the audiobook companion PDF download.THE ANCIENT PRACTICES
There is a hunger in every human heart for connection, primitive and raw, to God. To satisfy it, many are beginning to explore traditional spiritual disciplines used for centuries. . .everything from fixed-hour prayer to fasting to sincere observance of the Sabbath. Compelling and readable, the Ancient Practices series is for every spiritual sojourner, for every Christian seeker who wants more.