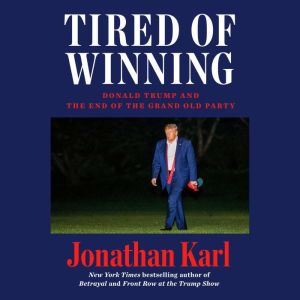 List: $22.50

| Sale: $16.20
Tired of Winning


Donald Trump and the End of the Grand Old Party

Format: Digital Audiobook Download
---
Synopsis
Picking up where the New York Times bestseller Betrayal left off, Tired of Winning explores how Donald Trump remade the Republican Party in his own image—and the wreckage he's left in his wake.
 
Packed with new reporting, Tired of Winning: Donald Trump and the End of the Grand Old Party tracks Trump's improbable journey from disgraced and defeated former president to the dominant force, yet again, in the Republican Party.
 
From his exile in Mar-a-Lago, Donald Trump has become more extreme, vengeful, and divorced from reality than he was on January 6, 2021. His meddling damaged the GOP's electoral prospects for third consecutive election in 2022. His legal troubles are mounting. Yet he's re-emerged as the frontrunner for the 2024 Republican presidential nomination.
 
Jonathan Karl has known Donald Trump since his days as a New York Post reporter in the 1990s, and he covered every day of Trump's administration as ABC News's chief White House correspondent. No one is in a better position to detail the former president's quest for retribution and provide a glimpse at what the GOP would be signing up for if it once again chooses him as its standard bearer.
 
In 1964, Ronald Reagan told Americans it was "a time for choosing." Sixty years later, Republicans have their own choice to make: Are they tired of winning?