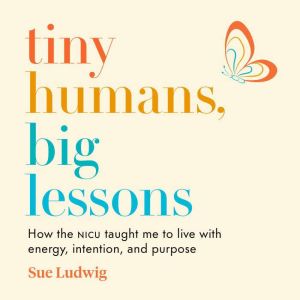 List: $19.99

| Sale: $13.99
Club: $9.99
Tiny Humans, Big Lessons
How the NICU Taught Me to Live With Energy, Intention, and Purpose
Format: Digital Audiobook Download
---
Synopsis
What if you cared for your life the way the NICU cares for its patients?

As a neonatal therapist working with premature babies in the NICU (neonatal intensive care unit), Sue Ludwig understood that the more intentional and responsible she was with her energy and actions, the greater and more positive her impact was on her tiny patients. But while she spent her days caring for the most fragile of patients, attuned to their sensitivities, she realized she had been neglecting her own needs and desires.

In this remarkable book about personal and professional transformation, Ludwig shares her journey from burned-out caregiver to powerful changemaker, and the lessons about self-care and energy she learned in the NICU. Through real patient stories, reflection, and practical tools, she guides you toward living a more purposeful and intentional life.

Most of us have been conditioned not to pay much attention to the mere moments of our days. We're told to keep our eye on the prize, on the future, on the next goal just beyond the horizon. We measure our lives by the outcomes we achieve. College degree, check. Professional career, check. Spouse, check. Children, check. And yet, by the time we've collected most of those checkmarks, many of us don't feel all that vibrant. We might even feel like roadkill.

But just as the simple power of touch can have dramatic effects on the health and developmental outcomes of premature babies, the energy we bring to everything we do-no matter how small-impacts us, and our own personal development. By acknowledging and taking charge of your energy, you can start intentionally building an environment that supports, rather than depletes it. By taking baby steps, you can fill each moment of your life as you choose, and live the kind of life that reflects your intentions.