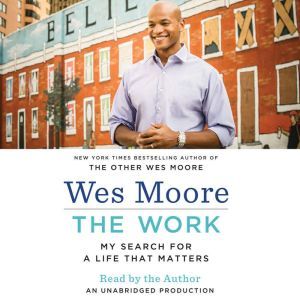 List: $15.00

| Sale: $10.80
Club: $7.50
The Work
My Search for a Life That Matters
Format: Digital Audiobook Download
---
Synopsis
The acclaimed author of The Other Wes Moore continues his inspirational quest for a meaningful life and shares the powerful lessons—about self-discovery, service, and risk-taking—that led him to a new definition of success for our times.
 
The Work is the story of how one young man traced a path through the world to find his life's purpose. Wes Moore graduated from a difficult childhood in the Bronx and Baltimore to an adult life that would find him at some of the most critical moments in our recent history: as a combat officer in Afghanistan; a White House fellow in a time of wars abroad and disasters at home; and a Wall Street banker during the financial crisis. In this insightful book, Moore shares the lessons he learned from people he met along the way—from the brave Afghan translator who taught him to find his fight, to the resilient young students in Katrina-ravaged Mississippi who showed him the true meaning of grit, to his late grandfather, who taught him to find grace in service.
 
Moore also tells the stories of other twenty-first-century change-makers who've inspired him in his search, from Daniel Lubetzky, the founder of KIND, to Esther Benjamin, a Sri Lankan immigrant who rose to help lead the Peace Corps. What their lives—and his own misadventures and moments of illumination—reveal is that our truest work happens when we serve others, at the intersection between our gifts and our broken world. That's where we find the work that lasts.
 
An intimate narrative about finding meaning in a volatile age, The Work will inspire readers to see how we can each find our own path to purpose and help create a better world.
 
Praise for The Work
 
"Powerful and moving . . . Wes Moore's story and the stories of those who have inspired him, from family members to entrepreneurs, provide a model for how we can each weave together valuable lessons from all different types of people to forge an individual path to triumph. I've known and deeply admired Wes for a long time. Reading The Work, I better understand why."—Chelsea Clinton

"Wes Moore proves once again that he is one of the most effective storytellers and leaders of his generation. His gripping personal story, set against the dramatic events of the past decade, goes straight to the heart of an ancient question that is as relevant as ever: not just how to live a good life, but how to make that life matter. Above all, this book teaches us how to make our journey about more than mere surviving or even succeeding; it teaches us how to truly come alive."—Arianna Huffington, author of Thrive

"How we define success for ourselves is one of life's essential questions. Wes Moore shows us the way—by sharing his incredible journey and the inspiring stories of others who make the world a better place through the choices they've made about how they want to live. We come away from this important book with a new understanding of what it truly means to succeed in life."—Suze Orman
 
"An intriguing follow-up to his bestselling The Other Wes Moore . . . Moore makes a convincing case that work has the most value if it's built on a foundation of service, selflessness, courage, and risk-taking."—Publishers Weekly
 
"A beautifully philosophical look at the expectation that work should bring meaning to our lives."—Booklist
 
"The Work will resonate with people seeking their own purpose."—BookPage


From the Hardcover edition.