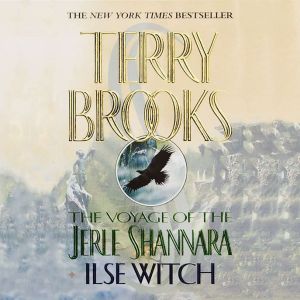 List: $25.00

| Sale: $18.00
Club: $12.50
The Voyage of the Jerle Shannara: Ilse Witch
Format: Digital Audiobook Download
---
Synopsis
NOW IN A NEW UNABRIDGED AUDIO EDITION, READ BY RAPHAEL CORKHILL

For more than twenty years, New York Times bestselling author Terry Brooks has proven himself one of the modern masters of fantasy, winning the hearts and minds of devoted readers around the world with his classic Shannara epic.

When a half-drowned elf is found floating in the seas of the Blue Divide, an old mystery resurfaces. Thirty years ago, an elven prince led an expedition in search of a legendary magic said to be more powerful than any in the world. Of all those who set out on that ill-fated voyage, not one has ever returned. 

Until now.

The rescued elf carries a map covered with mysterious symbols–and Walker Boh, the last of the Druids, has the skill to decipher them. But someone else understands the map's significance: the Ilse Witch, a ruthless young woman who wields a magic as potent as his own. She will stop at nothing to possess the map–and the magic it leads to.

Return to the world of beloved novelist Terry Brooks, where creatures drift up from the earth like mist, a hypnotic song can kill, a sword can cut through a veil of lies–and one man, the true heir of an ancient magic, must choose between betrayal and redemption.