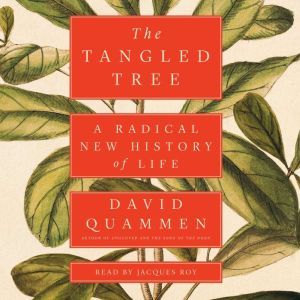 Synopsis
Longlisted for the National Book Award for Nonfiction Nonpareil science writer David Quammen explains how recent discoveries in molecular biology can change our understanding of evolution and life's history, with powerful implications for human health and even our own human nature. In the mid-1970s, scientists began using DNA sequences to reexamine the history of all life. Perhaps the most startling discovery to come out of this new field—the study of life's diversity and relatedness at the molecular level—is horizontal gene transfer (HGT), or the movement of genes across species lines. It turns out that HGT has been widespread and important. For instance, we now know that roughly eight percent of the human genome arrived not through traditional inheritance from directly ancestral forms, but sideways by viral infection—a type of HGT. In The Tangled Tree David Quammen, "one of that rare breed of science journalists who blends exploration with a talent for synthesis and storytelling" (Nature), chronicles these discoveries through the lives of the researchers who made them—such as Carl Woese, the most important little-known biologist of the twentieth century; Lynn Margulis, the notorious maverick whose wild ideas about "mosaic" creatures proved to be true; and Tsutomu Wantanabe, who discovered that the scourge of antibiotic-resistant bacteria is a direct result of horizontal gene transfer, bringing the deep study of genome histories to bear on a global crisis in public health. "Quammen is no ordinary writer. He is simply astonishing, one of that rare class of writer gifted with verve, ingenuity, humor, guts, and great heart" (Elle). Now, in The Tangled Tree, he explains how molecular studies of evolution have brought startling recognitions about the tangled tree of life—including where we humans fit upon it. Thanks to new technologies such as CRISPR, we now have the ability to alter even our genetic composition—through sideways insertions, as nature has long been doing. The Tangled Tree is a brilliant guide to our transformed understanding of evolution, of life's history, and of our own human nature.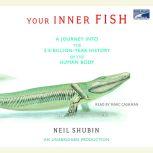 Your Inner Fish
by
Neil Shubin
Why do we look the way we do? What does the human hand have in common with the wing of a fly? Are breasts, sweat glands, and scales connected in some way? To better understand the inner workings of our bodies and to trace the origins of many of toda...
Narrator: Marc Cashman
Published: 01/15/2008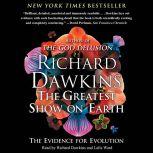 The Greatest Show on Earth
by
Richard Dawkins
In 2008, a Gallup poll showed that 44 percent of Americans believed God had created man in his present form within the last 10,000 years. In a Pew Forum poll in the same year, 42 percent believed that all life on earth has existed in its present for...
Narrator: Richard Dawkins
Published: 09/22/2009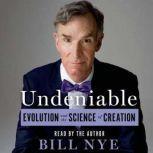 Undeniable
by
Bill Nye
"Evolution is one of the most powerful and important ideas ever developed in the history of science. Every question it raises leads to new answers, new discoveries, and new smarter questions. The science of evolution is as expansive as nature itself...
Narrator: Bill Nye
Published: 11/04/2014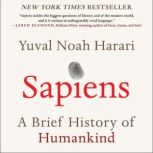 Sapiens
by
Yuval Noah Harari
New York Times BestsellerA Summer Reading Pick for President Barack Obama, Bill Gates, and Mark Zuckerberg From a renowned historian comes a groundbreaking narrative of humanity's creation and evolution—a #1 international bestsellerR...
Narrator: Derek Perkins
Published: 08/15/2017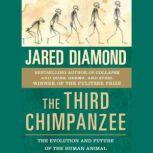 The Third Chimpanzee
by
Jared Diamond
The Development of an Extraordinary SpeciesWe human beings share 98 percent of our genes with chimpanzees. Yet humans are the dominant species on the planet -- having founded civilizations and religions, developed intricate and diverse forms of comm...
Narrator: Rob Shapiro
Published: 04/03/2012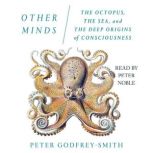 Other Minds
by
Peter Godfrey-Smith
Although mammals and birds are widely regarded as the smartest creatures on earth, it has lately become clear that a very distant branch of the tree of life has also sprouted higher intelligence: the cephalopods, consisting of the squid, the cuttlef...
Narrator: Peter Noble
Published: 03/07/2017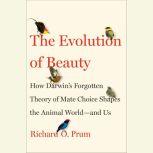 The Evolution of Beauty
by
Richard O. Prum
A FINALIST FOR THE PULITZER PRIZENAMED A BEST BOOK OF THE YEAR BY THE NEW YORK TIMES BOOK REVIEW, SMITHSONIAN, AND WALL STREET JOURNALA major reimagining of how evolutionary forces work, revealing how mating preferences—what Dar...
Narrator: Dan Woren
Published: 05/09/2017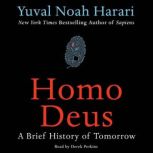 Homo Deus
by
Yuval Noah Harari
Yuval Noah Harari, author of the critically-acclaimed New York Times bestseller and international phenomenon Sapiens, returns with an equally original, compelling, and provocative book, turning his focus toward humanity's future, and our ques...
Narrator: Derek Perkins
Published: 02/21/2017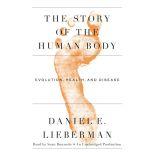 The Story of the Human Body
by
Daniel Lieberman
In this landmark book of popular science, Daniel E. Lieberman—chair of the department of human evolutionary biology at Harvard University and a leader in the field—gives us a lucid and engaging account of how the human body evolved over ...
Narrator: Sean Runnette
Published: 10/01/2013

{"id":"2287135","ean":"9781508252696","abr":"Unabridged","title":"The Tangled Tree: A Radical New History of Life","subtitle":"A Radical New History of Life","author":"David Quammen","rating_average":"3.38","narrator":"Jacques Roy","ubr_id":"2287135","abr_id":"0","ubr_price":"23.99","abr_price":"0.00","ubr_memprice":"14.39","abr_memprice":"0.00","ubr_narrator":"Jacques Roy","abr_narrator":"","ubr_length":"Unabridged: 13 hr 30 min","abr_length":"Abridged: "}