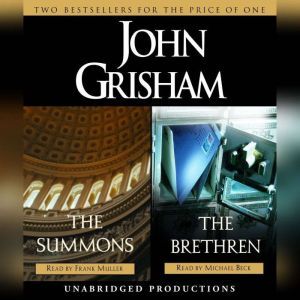 List: $23.48

| Sale: $16.91
The Summons / The Brethren
Format: Digital Audiobook Download
---
Synopsis
The Summons
Once Judge Atlee was a powerful figure in Clanton, Mississippi–a pillar of the community who towered over local law and politics for forty years. Now the judge is a shadow of his former self, a sick, lonely old man who has withdrawn to his sprawling ancestral home. Knowing the end is near, Judge Atlee has issued a summons for his two sons to return to Clanton to discuss his estate.
The summons is typed by the judge himself, on his handsome old stationery, and gives the date and time for his sons Ray and Forrest to appear in his study. But the judge dies too soon, and in doing so leaves behind a shocking secret.

The Brethren
They call themselves the Brethren: three disgraced former judges doing time in a Florida federal prison.
Meeting daily in the prison law library, taking exercise walks in their boxer shorts, these judges-turned-felons can reminisce about old court cases, dispense a little jailhouse justice, and contemplate where their lives went wrong.
Or they can use their time in prison to get very rich -- very fast. And so they sit, sprawled in the prison library, furiously writing letters, fine-tuning a wickedly brilliant extortion scam ... while events outside their prison walls begin to erupt.