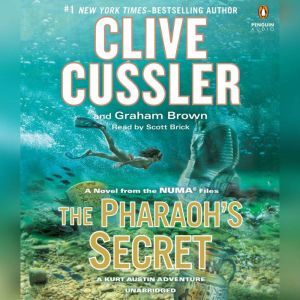 List: $22.50

| Sale: $16.20
The Pharaoh's Secret
Bestseller
Format: Digital Audiobook Download
---
Synopsis
When the NUMA crew is exposed to a dangerous toxin, Kurt Austin and Joe Zavala will stop at nothing to find a cure foretold by Ancient Egyptian lore in this exhilarting novel from the #1 New York Times–bestselling series 
 
Head of NUMA special assignments, Kurt Austin and his most trusted friend, Joe Zavala tangle with a ruthless powerbroker scheming to build a new Egyptian empire as glorious as those of the Pharaohs. Part of their adversary's plan rests on the manipulation of a newly discovered aquifer beneath the Sahara, but an even more devastating weapon at his disposal may threaten the entire world: a plant extract known as the black mist, discovered in the City of the Dead and rumored to have the power to take life from the living and restore it to the dead.

With the balance of power in Africa and Europe on the verge of tipping, Kurt, Joe, and the rest of the NUMA team will have to fight to discover the truth behind the legends—but to do that, they have to confront in person the greatest legend of them all: Osiris, the ruler of the Egyptian underworld.
 




From the Hardcover edition.