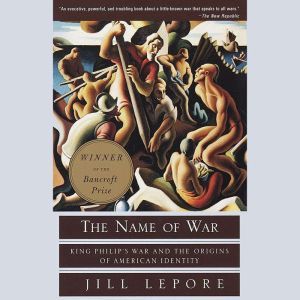 List: $22.50

| Sale: $16.20
Club: $11.25
The Name of War


King Philip's War and the Origins of American Identity

Format: Digital Audiobook Download
---
Synopsis
Winner of the the 1998 Ralph Waldo Emerson Award of the Phi Beta Kappa Society

King Philip's War, the excruciating racial war--colonists against Indians--that erupted in New England in 1675, was, in proportion to population, the bloodiest in American history. Some even argued that the massacres and outrages on both sides were too horrific to "deserve the name of a war."

It all began when Philip (called Metacom by his own people), the leader of the Wampanoag Indians, led attacks against English towns in the colony of Plymouth. The war spread quickly, pitting a loose confederation of southeastern Algonquians against a coalition of English colonists. While it raged, colonial armies pursued enemy Indians through the swamps and woods of New England, and Indians attacked English farms and towns from Narragansett Bay to the Connecticut River Valley. Both sides, in fact, had pursued the war seemingly without restraint, killing women and children, torturing captives, and mutilating the dead. The fighting ended after Philip was shot, quartered, and beheaded in August 1676.

The war's brutality compelled the colonists to defend themselves against accusations that they had become savages. But Jill Lepore makes clear that it was after the war--and because of it--that the boundaries between cultures, hitherto blurred, turned into rigid ones. King Philip's War became one of the most written-about wars in our history, and Lepore argues that the words strengthened and hardened feelings that, in turn, strengthened and hardened the enmity between Indians and Anglos. She shows how, as late as the nineteenth century, memories of the war were instrumental in justifying Indian removals--and how in our own century that same war has inspired Indian attempts to preserve "Indianness" as fiercely as the early settlers once struggled to preserve their Englishness.

Telling the story of what may have been the bitterest of American conflicts, and its reverberations over the centuries, Lepore has enabled us to see how the ways in which we remember past events are as important in their effect on our history as were the events themselves.