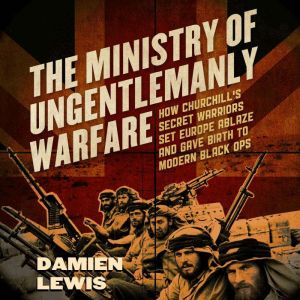 List: $32.00

| Sale: $22.40
Club: $16.00
The Ministry of Ungentlemanly Warfare
How Churchill's Secret Warriors Set Europe Ablaze and Gave Birth to Modern Black Ops
Format: Digital Audiobook Download
---
Synopsis
From the award-winning historian, war reporter, and author Damien Lewis (Zero Six Bravo, Judy) comes the incredible true story of the top-secret "butcher-and-bolt" black ops units Prime Minister Winston Churchill tasked with stopping the unstoppable German war machine. Criminals, rogues, and survivalists, the brutal tactics and grit of these "deniables" would define a military unit the likes of which the world had never seen.
When France fell to the Nazis in 1940, Churchill declared that Britain would resist the advance of the German army--alone if necessary. Churchill commanded the Special Operations Executive to secretly develop of a very special kind of military unit that would operate on their own initiative deep behind enemy lines. The units would be licensed to kill, fully deniable by the British government, and a ruthless force to meet the advancing Germans.
The very first of these "butcher-and-bolt" units--the innocuously named Maid Honour Force--was led by Gus March-Phillipps, a wild British eccentric of high birth, and an aristocratic, handsome, and bloodthirsty young Danish warrior, Anders Lassen. Amped up on amphetamines, these assorted renegades and sociopaths undertook the very first of Churchill's special operations--a top-secret, high-stakes mission to seize Nazi shipping in the far-distant port of Fernando Po, in West Africa.
Though few of these early desperadoes survived WWII, they took part in a series of fascinating, daring missions that changed the course of the war. It was the first stirrings of the modern special-ops team, and all of the men involved would be declared war heroes when it was all over.
The Ministry of Ungentlemanly Warfare focuses on a dozen of these extraordinary men, weaving their stories of brotherhood, comradely, and elite soldiering into a gripping narrative yarn, from the earliest missions to Anders Larssen's tragic death, just weeks before the end of the war.