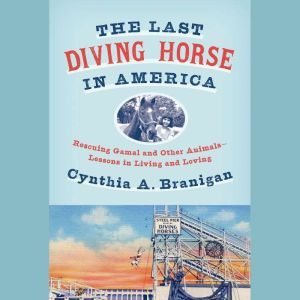 List: $20.00

| Sale: $14.40
The Last Diving Horse in America


Rescuing Gamal and Other Animals--Lessons in Living and Loving

Format: Digital Audiobook Download
---
Synopsis
The rescue of the last diving horse in America and the inspiring story of how horse and animal rescuer were each profoundly transformed by the other—from the award-winning animal rescuer of retired racing greyhounds and author of the best-selling Adopting the Racing Greyhound
 
It was the signature of Atlantic City's Steel Pier in the golden age of "America's Favorite Playground": Doc Carver's High Diving Horses. Beginning in 1929, four times a day, seven days a week, a trained horse wearing only a harness ran up a ramp, a diving girl in a bathing suit and helmet jumped onto its mighty bare back, and together they sailed forty feet through the air, plung­ing, to thunderous applause, into a ten-foot-deep tank of water.
 
Decades later, after cries of animal abuse and chang­ing times, the act was shuttered, and in May 1980, the last Atlantic City Steel Pier diving horse was placed on the auction block in Indian Mills, New Jersey. The au­thor, who had seen the act as a child and had been haunted by it, was now working with Cleveland Amory, the founding father of the modern animal protection movement, and she was, at the last minute, sent on a rescue mission: bidding for the horse everyone had come to buy, some for the slaughterhouse (they dropped out when the bidding exceeded his weight). The author's winning bid: $2,600—and Gamal, gleaming-coated, majestic, commanding, was hers; she who knew almost nothing about horses was now the owner of the last div­ing horse in America.
 
Cynthia Branigan tells the magical, transformative story of how horse and new owner (who is trying to sort out her own life, feeling somewhat lost herself and in need of rescuing) come to know each other, educate each other, and teach each other important lessons of living and loving. She writes of providing a new home for Gamal, a farm with plentiful fields of rich, grazing pasture; of how Gamal, at age twenty-six, blossoms in his new circumstances; and of the special bond that slowly grows and deepens between them, as Gamal tests the author and grows to trust her, and as she grows to rely upon him as friend, confidant, teacher.
 
She writes of her search for Gamal's past: moved from barn to barn, from barrel racer to rodeo horse, and ending up on the Steel Pier; how his resilience and dig­nity throughout those years give deep meaning to his life; and how in understanding this, the author is freed from her own past, which had been filled with doubts and fears and darkness. Branigan writes of the history of diving horses and of how rescuing and caring for Gamal led to her saving other animals—burros, llamas, and goats—first as company for Gamal and then finding homes for them all; and, finally, saving a ten-year-old retired greyhound called King—despondent, nearly broken in spirit—who, running free in the fields with Gamal, comes back to his happy self and opens up for the author a whole new surprising but purposeful world.
 
A captivating tale of the power of animals and the love that can heal the heart and restore the soul.