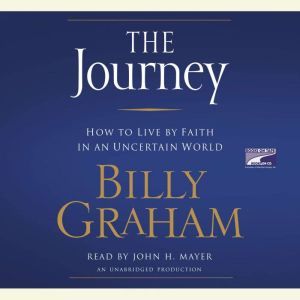 List: $22.86

| Sale: $16.46
The Journey


How to Live by Faith in an Uncertain World

Format: Digital Audiobook Download
---
Synopsis
"You will only make this journey once. What kind of journey will it be?"
–Billy Graham

In this culminating work of a lifetime, the remarkable Billy Graham invites you to join him in discovering God's plan for this exciting journey called life. Wherever you are in your journey, you've already learned that life offers a variety of paths. And each fork and crossroad requires a decision. How do you choose the right path and maneuver the inevitable speed bumps and potholes that lie before you?

With characteristic clarity and passion the world-renowned author and evangelist leads us step by step, offering insight that only comes from a life spent with God.

This magnum opus from Billy Graham, seasoned with personal stories from his own life, offers wisdom, encouragement, hope, and inspiration–for anyone who wants to make the most of. . .THE JOURNEY.