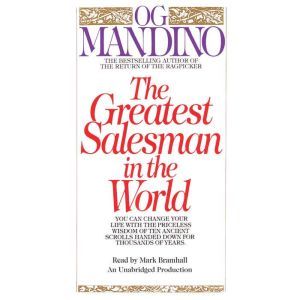 List: $7.50

| Sale: $5.40
The Greatest Salesman in the World
Format: Digital Audiobook Download
---
Synopsis
What you are today is not important . . . for in this runaway bestseller you will learn how to change your life by applying the secrets you are about to discover in the ancient scrolls. 

"I will persist until I succeed.

I was not delivered into this world into defeat, nor does failure course in my veins. I am not a sheep waiting to be prodded by my shepherd. I am a lion and I refuse to talk, to walk, to sleep with the sheep.

The slaughterhouse of failure is not my destiny.

I will persist until I succeed."

—From the ancient scroll marked III in The Greatest Salesman in the World

Praise for The Greatest Salesman in the World

"The Greatest Salesman in the World is one of the most inspiring, uplifting, and motivating books I have ever read. I can well understand why it has had such a splendid acceptance."—Norman Vincent Peale

"At last! A book on sales and salesmanship that can be read and enjoyed by veteran and recruit alike! I have just completed The Greatest Salesman in the World for the second time—it was too good for just one reading—and in all sincerity, I say that it is the most readable, most constructive and most useful instrument for the teaching of sales as a profession that I have ever read."—F.W. Errigo, Manager, U. S. Sales Trainer at Parke, Davis & Company

"I have read almost every book that has ever been written on salesmanship, but I think Og Mandino has captured all of them in The Greatest Salesman in the World. No one who follows these principles will ever fail as a salesman, and no one will ever be truly great without them; but, the author has done more than present the principles—he has woven them into the fabric of one of the most fascinating stories I have ever read."—Paul J. Meyer, President of Success Motivation Institute, Inc.

"Every sales manager should read The Greatest Salesman in the World. It is a book to keep at the bedside, or on the living room table—a book to dip into as needed, to browse in now and then, to enjoy in small stimulating portions. It is a book for the hours and for the years, a book to turn to over and over again, as to a friend, a book of moral, spiritual and ethical guidance, an unfailing source of comfort and inspiration."—Lester J. Bradshaw, Jr., Former Dean, Dale Carnegie Institute of Effective Speaking & Human Relations

"I was overwhelmed by The Greatest Salesman in the World. It is, without doubt, the greatest and the most touching story I have ever read. It is so good that there are two musts that I would attach to it: First, you must not lay it down until you have finished it; and secondly, every individual who sells anything, and that includes us all, must read it."—Robert B. Hensley, President, Life Insurance Co. of Kentucky

"Og Mandino provocatively prods your attention into fascination as he masterfully relates his story. The Greatest Salesman in the World is a book with emotional appeal for millions."—Roy Garn, Executive Director, Emotional Appeal Institute

"There are very few men who have the writing talent with which Og Mandino has been blessed. The thoughts contained in this book symbolize the importance of selling to the entire world's existence."—Sol Polk, President, Polk Bros., Inc.