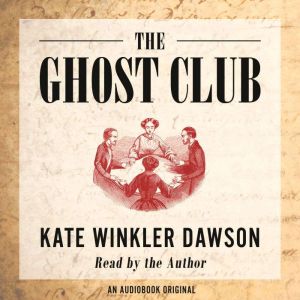 List: $15.00

| Sale: $10.80
The Ghost Club
Format: Digital Audiobook Download
---
Synopsis
This audio original from the acclaimed author of American Sherlock, and the host of multiple true-crime podcasts, including Wicked Words, tells the fascinating story of the supernatural, and the club that united some of the world's most illustrious thinkers.

For more than a century, some of the world's most important thinkers and leaders—men like Arthur Conan Doyle and William Butler Yeats—gathered once a month and discussed the supernatural at The Ghost Club in London. In the early 1900s the club's chairman was Harry Price, the world's most well-known ghost hunter. He and other members, like Harry Houdini, sought to debunk the charlatans who preyed on vulnerable people with fake seances, tarot readings, and spiritual encounters. 

Price went to war with other researchers, as well as fake mediums, like the "witch" Helen Duncan. Price's dramatic confrontation with Duncan during one of her seances ended with her arrest—she would be the last person in Europe ever tried under the Witch Act.

But Price's best-known case, and largest experiment, was the year he spent living in the Borley Rectory in southeast England. Price was determined to prove (or disprove) the existence of poltergeists in the famed rectory using gadgets that many looked at with mistrust. Price's conclusions would solidify both his reputation as the world's greatest ghost hunter, as well as the Borley Rectory's designation as the most haunted house in England.

The legends of The Ghost Club and the Borley Rectory still endure one hundred years later, ripe for fresh investigation.