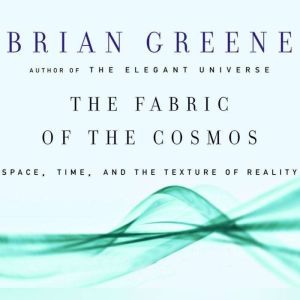 Synopsis
From Brian Greene, one of the world's leading physicists, comes a grand tour of the universe that makes us look at reality in a completely different way.

Space and time form the very fabric of the cosmos. Yet they remain among the most mysterious of concepts. Is space an entity? Why does time have a direction? Could the universe exist without space and time? Can we travel to the past?

Greene uses these questions to guide us toward modern science's new and deeper understanding of the universe. From Newton's unchanging realm in which space and time are absolute, to Einstein's fluid conception of spacetime, to quantum mechanics' entangled arena where vastly distant objects can bridge their spatial separation to instantaneously coordinate their behavior or even undergo teleportation, Greene reveals our world to be very different from what common experience leads us to believe. Focusing on the enigma of time, Greene establishes that nothing in the laws of physics insists that it run in any particular direction and that "time's arrow" is a relic of the universe's condition at the moment of the big bang. And in explaining the big bang itself, Greene shows how recent cutting-edge developments in superstring and M-theory may reconcile the behavior of everything from the smallest particle to the largest black hole. This startling vision culminates in a vibrant eleven-dimensional "multiverse," pulsating with ever-changing textures, where space and time themselves may dissolve into subtler, more fundamental entities.

Sparked by the trademark wit, humor, and brilliant use of analogy that have made The Elegant Universe a modern classic, Brian Greene takes us all, regardless of our scientific backgrounds, on an irresistible and revelatory journey to the new layers of reality that modern physics has discovered lying just beneath the surface of our everyday world.

With 146 illustrations

Jacket photograph by DB Image/Brand X Pictures


From the Hardcover edition.
About the Author
Not many author bios begin with the author also being an American theoretical physicist, mathematician, and string theorist, but such is the bio for Brian Randolph Greene. He is a full professor in Physics at Columbia University where he has worked on "mirror symmetry" and described the "flop transition, a mild form of topology change, showing that topology theory can change at the conifold point".

Greene was born in New York City in 1963 to a Jewish family. His father was a high school drop-out, performed in vaudeville, then became a voice
coach and composer. Greene earned his doctorate at Magdalen College, Oxford University in 1987. He also studied piano while there.

The public knows him through his books: The Elegant Universe, Icarus at the Edge of Time, The Fabric of the Cosmos and The Hidden Reality. For fun, he has appeared on The Big Bang Theory, and has been in the films Frequency and The Last Mimzy. He was also the voice reader of the U.S. version of the preschool television series, Maisy.

Currently, Greene is co-director of Columbia's Institute for Strings, Cosmology, and Astroparticle Physics. He joins fellow investigators on a project entitled "Arrow of Time in the Quantum Universe", through a FQXi large grant award.
AudiobooksNow review by Bradley on 2009-07-09 12:55:53
Hi, I just thought you should know, that this audiobook program isn't unabridged. at the time of this review, Jul2009, booksfree states 'unabridged'I checked the unabridged version out of my public library once and it was 19 discs. See: The fabric of the cosmos [sound recording] : [space, time, and the texture of reality] / Brian Greene. Santa Ana, CA : Books on Tape, p2004. 19 sound discs 72 min. each : digital 4 3/4 in. That said. I only made it through 11 of the discs. While worthwhile, it was pretty tough in spots. I'm thankful for this more abbreviated version. Oh, yeah, as for the review ? This is good fair for those who enjoy popular science titles... and are ready for something deeper to chew on. You know who you are. If you have read titles such as Chaos by Gleick or Brief History of Time by Hawking this may be right up your alley. It starts out with: A bucket of water is suspended by a rope from its handle. The bucket is wound up like winding up a child on a swing to spin him and let go. The water will rise up centrifugally against the inner walls of the bucket. To what is the water responding ? From what/ to what/ is it attracted or repelled ? This is a variation on Mach's principle and the starting point from which we consider an all pervasive fabric of the cosmos. This simplistic experiment raises many of our intuitive and suppositional conclusions about physical reality. Also discussed: Entanglement, black hole entropy, quantum reality. etc. Good times. In short, consider this audiobook an overview of the original material.
{"id":"327006","ean":"9781415902349","abr":"Unabridged","title":"The Fabric of the Cosmos: Space, Time and the Texture of Reality","subtitle":"Space, Time and the Texture of Reality","author":"Brian Greene","rating_average":"3.84","narrator":"Michael Prichard","series_id":"18313","ubr_id":"327006","abr_id":"0","ubr_price":"32.50","abr_price":"0.00","ubr_memprice":"21.12","abr_memprice":"0.00","ubr_narrator":"Michael Prichard","abr_narrator":"","ubr_length":"Unabridged: 22 hr 45 min","abr_length":"Abridged: "}