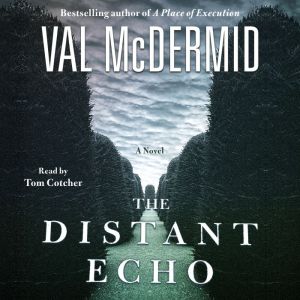 List: $32.99

| Sale: $23.10
The Distant Echo
Format: Digital Audiobook Download
---
Synopsis
This "cunningly plotted" (New York Times) thriller is coming to Britbox this October!

Bestselling, award-winning author Val McDermid delivers her most stunning story yet in The Distant Echo--an intricate, thought-provoking tale of murder and revenge.

Four in the morning, mid-December, and snow blankets St. Andrews School. Student Alex Gilbery and his three best friends are staggering home from a party when they stumble upon the body of a young woman. Rosie Duff has been raped, stabbed and left for dead in the ancient Pictish cemetery. The only suspects are the four young students stained with her blood.

Twenty-five years later, police mount a cold case review. Among the unsolved murders they're examining is that of Rosie Duff. But someone else has his own idea of justice. One of the original quartet dies in a suspicious house fire and soon after, a second is killed. Alex fears the worst. Someone is taking revenge for Rosie Duff. And it might just save his life if he can uncover who really killed Rosie all those years ago.

A Macmillan Audio production from Minotaur Books.