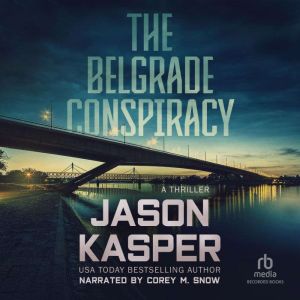 List: $19.99

| Sale: $13.99
The Belgrade Conspiracy
Format: Digital Audiobook Download
---
Synopsis
**FROM FORMER GREEN BERET AND USA TODAY BESTSELLING AUTHOR JASON KASPER**
A lethal shipment of military hardware.
An international terrorist group on a mission of mass destruction.
One man stands to forever change the course of history…unless David Rivers can stop him.
David Rivers is an expert in the art of violence. Together with his team of CIA operatives, he's executed dozens of covert assassinations—but this mission might turn out to be his deadliest yet.
One man stands behind the transfer of high-level military hardware to an international terrorist syndicate. The CIA has uncovered his identity: Yuri Sidorov, a Russian arms dealer with state protection. With the arms deal only days away, David and the team are faced with an impossible challenge: to get close enough to take out their target, they must first win his trust.
David and the team infiltrate a black market arms network in Serbia, negotiating a web of secret police and mafia hitmen. Each wrong turn may prove fatal, but they're determined to succeed at any cost.
But Sidorov is still alive for a reason, and when the team uncovers dark forces at work in the Balkans and America, they realize that killing him is the least of their worries.
By the time they learn the truth, it's too late…and now they're the ones being hunted.