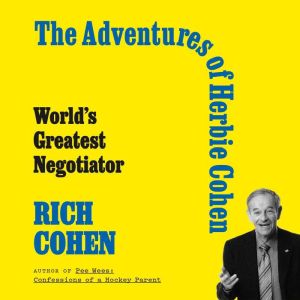 List: $19.99

| Sale: $13.99
The Adventures of Herbie Cohen


World's Greatest Negotiator

Format: Digital Audiobook Download
---
Synopsis
The New York Times bestselling author Rich Cohen tells the story of Herbie: the king of Bensonhurst, the world's best negotiator—and Cohen's wise, wisecracking father.

Meet Herbie. The World's Greatest Negotiator, deal maker, and chance taker, Brooklyn-born Jewish Buddha, adviser to presidents and corporations, arms and hostage negotiator, lesson giver and justice seeker, author of the how-to classic You Can Negotiate Anything, and, of course, Rich Cohen's father.

This book is the story of a singular man. It follows Herbie from his youth, running around Brooklyn with pals Sandy Koufax, Larry King, Who Ha, and Ben the Worrier (his Bensonhurst gang "the Warriors"), to his days in the army, coaching basketball across Europe, to the years he spent crossing the country giving lectures, doing deals, and teasing out every trick in the book for getting by and for finding meaning in this strange and funny life.

The Adventures of Herbie Cohen is an ode to a remarkable man from his son and a treasure trove of homegrown wisdom and unbelievable antics. It is bildungsroman, a collection of stories, and the unfolding of a life coiled around Herbie's great insight and guiding principle: The secret of life is to care, but not that much.

A Macmillan Audio production from Farrar, Straus and Giroux.