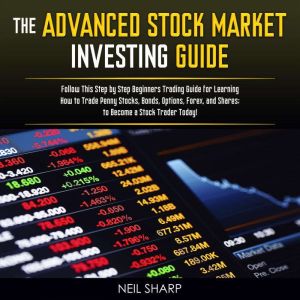 List: $15.97

| Sale: $11.18
Club: $7.98
The Advanced Stock Market Investing Guide: Follow This Step by Step Beginners Trading Guide for Learning How to Trade Penny Stocks, Bonds, Options, Forex, and Shares; to Become a Stock Trader Today!
Format: Digital Audiobook Download
---
Synopsis
Do you want to live a life of freedom, flexibility, and wealth? If so, then keep reading... Do you have problems getting started with trading and investing stocks? In knowing who to trust for advice? In finding strategies for making sure you have the best odds for coming out on top? Or choosing the best stocks to trade? If you do, within this audiobook, many of the top leaders in the field have shared their knowledge on how to overcome these problems and more, most of whom have 10-plus years' worth of experience. In The Advanced Stock Market Investing Guide, you will discover: • A simple trick you can do to find the best stocks to invest in and trade! • The best way for staying on top of your stock portfolio whether you are a seasoned investor or just a beginner! • The one method you should follow for becoming a successful stock trader and investor! • Why knowing who to trust for advice can set you up for success in the stock market! • Understanding why some people will lose money investing in the stock market! • And much, much more. The proven methods and pieces of knowledge are so easy to follow. Even if you've never tried to invest in stocks before, you will still be able to get to a high level of success!So, if you don't want to just transform your bank account but instead revolutionize your life, then start listening NOW!