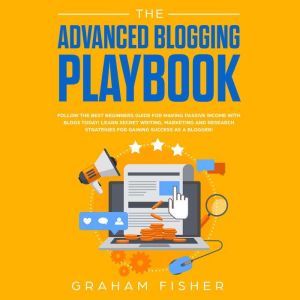 List: $15.97

| Sale: $11.18
The Advanced Blogging Playbook: Follow the Best Beginners Guide for Making Passive Income with Blogs Today! Learn Secret Writing, Marketing and Research Strategies for Gaining Success as a Blogger!
Format: Digital Audiobook Download
---
Synopsis
Do you want to build a fall time passive income from the comfort of your own home? If so then keep reading…Do you have problems not knowing where to start when creating your blog? How you can rank your blog higher for desired keywords/ topics? Monetizing your blog in multiple ways? Or building an engaged audience? If you do, within this audiobook many of the top leaders in the field have shared their knowledge on how to overcome these problems and more, most of which have 10+ years worth experience.In The Advanced Blogging Playbook, you will discover:• A simple trick you can do to reduce your visitor bounce rate!• The best way to monetize your blog to its highest potential!• The one method for finding the hottest and easiest search terms to rank for!• Why you should create a blog today!• Understanding why some people will fail with blogging and how to use that to succeed!- And much, much more.The proven methods and pieces of knowledge are so easy to follow. Even if you've never heard of blogging before, you will still be able to get to a high level of success. So, if you don't just want to transform your bank account but instead revolutionize your life, then click "BORROW" or "Buy Now"!