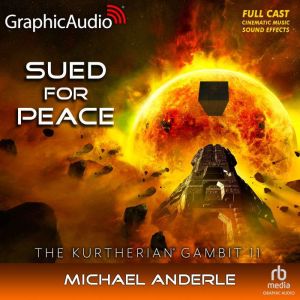 List: $19.99

| Sale: $13.99
Sued For Peace


The Kurtherian Gambit 11

Narrator: Amanda Forstrom, Colleen Delany, David Engel, Emily Beresford, James Lewis, Matthew Pauli, Rose Elizabeth Supan, Terence Aselford, Zeke Alton, Sara Matsui-Colby, Tyler Hyrchuk

Format: Digital Audiobook Download
---
Synopsis
"Greed and Fear, two emotions that rule both individuals...and Countries.
Now, China has decided that they will do whatever it takes to acquire TQB technology.
There was a glaring flaw in their plan. When they kill an unborn little baby in a raid, the Queen Bitch is Released.
Now, China has two options...Kill Bethany Anne, or Sue For Peace.
Performed by Colleen Delany, Emily Beresford, Amanda Forstrom, Tyler Hyrchuk, David Engel, Terence Aselford, James Lewis, Zeke Alton, Matthew Pauli, Sara Matsui-Colby, Rose Elizabeth Supan, Mort Shelby, Dan Delgado, Eric Messner, Daniel Llaca, Holly Adams, David Cui Cui, Matthew Bassett, Christopher Graybill, David Zitney, Anthony Palmini, Danny Gavigan, Steve Wannall, Triya Leong, Robb Moreira, Adrian Garcia, Tia Shearer, Jonathan Lee Taylor, Ken Jackson, Richard Rohan, Michael John Casey, Lise Bruneau, Mark Harrietha, James Konicek, Christopher Walker, Peter Holdway, Christopher Williams, Jacob Yeh, Bianca Bryan, Tony Nam, Elias Khalil, Scott McCormick, Stephanie Nemeth-Parker, Nora Achrati, Rayner Gabriel, Keval Shah, Bradley Foster Smith, Yasmin Tuazon, Mike Carnes, Julie-Anne Elliott, Marni Penning, Stewart Crank, Catherine Aselford, Eva Wilhelm, Matthew Schleigh, Shanta Parasuraman, and Emlyn MacFarland."