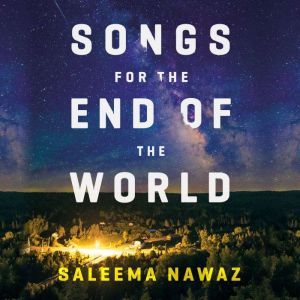 List: $20.00

| Sale: $14.40
Songs for the End of the World


A Novel

Narrator: Alex Paxton-Beesley, Amelia Sargisson, Tyrone Savage, Braden Wright, David Reale, Christina Ho, Douglas E. Hughes, Stephanie Belding, John Fray, Victoria Carr, Ali Hassan, Odario Williams, Nana aba Duncan, Amy Matysio

Format: Digital Audiobook Download
---
Synopsis
"In these dark days, Saleema Nawaz dares to write of hope. Songs for the End of the World is a loving, vivid, tenderly felt novel about men, women, and a possible apocalypse. I couldn't put it down." –Sean Michaels, author of Us Conductors and The Wagers

NATIONAL BESTSELLER. An immersive, deeply engaging, and hopeful novel about the power of human connection in a time of crisis, as the bonds of love, family, and duty are tested by an impending catastrophe. Named a Book of the Year by the Globe and Mail, Quill & Quire, 49th Shelf, and a Book You Should Read by Maclean's and Chatelaine.

How quickly he'd forgotten a fundamental truth: the closer you got to the heart of a calamity, the more resilience there was to be found.
This is the story of a handful of people living through an unfolding catastrophe.
Elliot is a first responder in New York, a man running from past failures and struggling to do the right thing. Emma is a pregnant singer preparing to headline a benefit concert for victims of a growing outbreak—all while questioning what kind of world her child is coming into. Owen is the author of a bestselling novel with eerie similarities to the real-life crisis, and as fact and fiction begin to blur, he must decide whether his lifelong instinct for self-preservation has been worth the cost.
As we discover these characters' ties to one another—and to the mystery of the so-called ARAMIS Girl—what emerges is an extraordinary web of connection and community that reveals none of us is ever truly alone.
Brilliantly told by an unforgettable chorus of voices, Saleema Nawaz's glittering novel is a moving and hopeful meditation on what we owe to ourselves and to each other. It reminds us that disaster can bring out the best in people—and that coming together may be what saves us in the end.