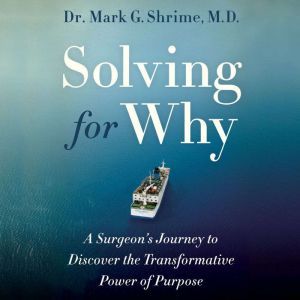 List: $24.99

| Sale: $17.50
Solving for Why


A Surgeon's Journey to Discover the Transformative Power of Purpose

Format: Digital Audiobook Download
---
Synopsis
From Mercy Ships surgeon Dr. Mark G. Shrime comes an inspiring memoir about finding the answer to life's biggest question—"Why?"—and about following that answer through remarkable, unlikely places on the road to fulfillment, purpose, and joy.

SOLVING FOR WHY chronicles one man's journey to find the answer to the biggest of all life's questions: "Why?" Following a traumatic car accident, Dr. Shrime—the child of Lebanese immigrants fleeing a civil war, who later became a successful practicing surgeon in Boston—found himself compelled to change the course of his life, determined to find meaning and satisfaction even if it meant diverting from America's idea of "success." Featuring stories, insights, and research from his own exceptional life and work, SOLVING FOR WHY is the story of Dr. Shrime's search for—and discovery of—lifelong fulfillment. 
 
Now a global surgeon operating on a hospital ship docked off the coast of West Africa and one of the few global experts on surgery in low- and middle-income countries, Dr. Shrime seeks to impart the wisdom of the lessons he's learned over the course of his search for a life of true contentment. In the tradition of Dr. Paul Farmer's To Repair the World, Dr. Atul Gawande's Better, and Dr. Michele Harper's The Beauty in Breaking, SOLVING FOR WHY combines personal stories with deep, thoughtful research into the challenges of working in modern medicine in the 21st century and the commodification of work in America.
 
A story of discovery and transformation, SOLVING FOR WHY seeks to help readers answer the "why" of their own lives and ultimately find joy outside the status quo.