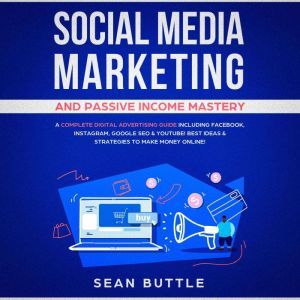 List: $19.99

| Sale: $13.99
Club: $9.99
Social Media Marketing and Passive Income Mastery: A Complete Digital Advertising Guide Including Facebook, Instagram, Google SEO & Youtube! Best Ideas & Strategies to Make Money Online!
Format: Digital Audiobook Download
---
Synopsis
Do you want to learn how to get the most from social media marketing so that you can earn money with little daily effort? If so then keep reading…The solution is having an effective social media marketing strategy along with an online business, that will make you money whilst you are asleep; to help you escape your 9 - 5 job. Through earning money online, it will give you the freedom to choose how you spend your time, whilst still being able to afford to live.Inside this book, you will learn:• A simple trick you can do to start earning passive income quicker.• The best cutting edge social media marketing techniques. • The one strategy that will help you to boost sales.• How to optimize for different social media marketing platforms. • The necessary steps to take in order to replace your job.• Understanding why some people will fail to make passive income online.- And much, much more.The proven methods and pieces of knowledge are so easy to follow. Even if you are new to social media marketing and passive income, this audiobook will show you how to achieve high levels of success. If you want to become financially independent, then click the "Buy Now" button to start listening today!