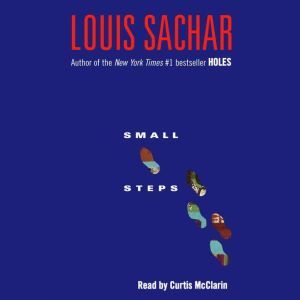 List: $15.00

| Sale: $10.80
Small Steps
Format: Digital Audiobook Download
---
Synopsis
The young adult follow-up to the bestselling Newbery Award book and movie sensation, Holes.

 Two years after being released from Camp Green Lake, Armpit is home in Austin, Texas, trying to turn his life around. But it's hard when you have a record and everyone expects the worst from you. The only person who believe in Armpit is Ginny, his ten-year-old disabled neighbor. Together, they are learning to take small steps.

 Armpit seems to be on the right path until X-Ray, a buddy from Camp Green Lake, comes up with a get-rich-quick scheme. X-Ray's plan leads to a chance encounter with teen pop sensation Kaira DeLeon, the Beyoncé of her time, and suddenly Armpit's life spins out of control. Only one thing is certain: he'll never be the same again.

 Combining his signature wit with a unique blend of adventure and deeply felt characters, Sachar explores issues of race, the nature of celebrity, the invisible connections that shape a person's life, and what it takes to stay the course. Doing the right thing is never a wrong choice—but always a small step in right direction.