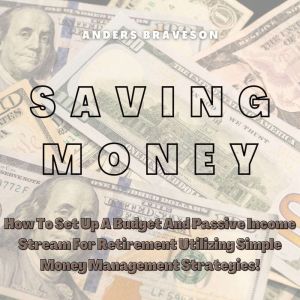 List: $4.73

| Sale: $3.32
Club: $2.36
Saving Money
How To Set Up A Budget And Passive Income Stream For Retirement Utilizing Simple Money Management Strategies!
Format: Digital Audiobook Download
---
Synopsis
Would you like to reach retirement completely broke as you are living your life until now?! A job is the common means of making a living, but there are other ways where you can have much more satisfaction and enjoy an awesome lifestyle together with your loved ones without sacrificing much! We are living in the information age. Don't let the opportunities it offers go in vain while millions of other people are enjoying it.You will learn in this audiobook:The Truth About Saving And The Myth That The Gurus Have Spread All Over The Market!The Fun Side of Saving!How to Save Money and Commercialize What You Have Learned?Types of Passive Income and The Real Truth About Passive Income!How to Begin an Online Business and When to Quit Your Job, If Ever!And much more...Come with me and join the millions of successful entrepreneurs who have created the life they have always dreamed of in a matter of months! Life is so rich and abundant, don't let it pass by while you are short of the basics. The question is, will you heed the call?