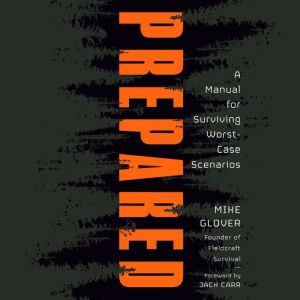 List: $17.50

| Sale: $12.60
Prepared


A Manual for Surviving Worst-Case Scenarios

Format: Digital Audiobook Download
---
Synopsis
A former Green Beret's indispensable course in preparedness, teaching the keys to building a resilient and fearless life

Most people think that being prepared for catastrophe means stocking up on MREs and building a bunker in their backyard, but this approach leaves you vulnerable in the real world of car accidents, natural disasters, grid failures, and global pandemics. Prepared overturns today's paranoid survival wisdom and teaches the foundational skills of preparedness that will not only help you build situational awareness and achieve greater mobility but that will also help you build resilient mental habits.

After 20 years in the US Army, Special Forces, and as a government contractor for the CIA, Mike Glover has trained thousands of men, women, and families in the art and science of survival. In this book, he shows you how to: 

• Harness your brain chemistry to eliminate the freeze response and increase your stress tolerance during a crisis
• Fortify your home by learning how to use and store essential foods, water, supplies, first aid, and ammunition in your everyday life
• Equip your vehicle with sufficient first aid, so you can respond to injuries even before an ambulance arrives—dramatically increasing your chance of survival in an accident

Drawing on Glover's most dire experiences in combat and in the real world, this book shows you how almost no disaster is more powerful than someone who is truly prepared. For Glover, surviving catastrophe is not about fearing crisis, but creating more resilient habits so that you can be ready for whatever comes your way.