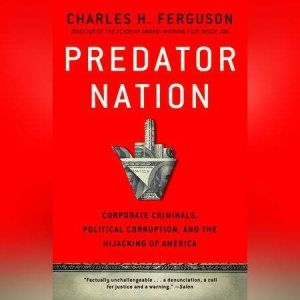 Details
Predator Nation: Corporate Criminals, Political Corruption, and the Hijacking of America
Author: Charles H. Ferguson
Narrator: Rob Shapiro
Unabridged: 13 hr 30 min
Format: Digital Audiobook
Publisher: Random House Audio
Published: 05/22/2012
Synopsis
Charles H. Ferguson, who electrified the world with his Oscar-winning documentary Inside Job, now explains how a predator elite took over the country, step by step, and he exposes the networks of academic, financial, and political influence, in all recent administrations, that prepared the predators' path to conquest. 
     Over the last several decades, the United States has undergone one of the most radical social and economic transformations in its history. 

·         Finance has become America's dominant industry, while manufacturing, even for high technology industries, has nearly disappeared.

·         The financial sector has become increasingly criminalized, with the widespread fraud that caused the housing bubble going completely unpunished.

·         Federal tax collections as a share of GDP are at their lowest level in sixty years, with the wealthy and highly profitable corporations enjoying the greatest tax reductions.

·         Most shockingly, the United States, so long the beacon of opportunity for the ambitious poor, has become one of the world's most unequal and unfair societies. 

If you're smart and a hard worker, but your parents aren't rich, you're now better off being born in Munich, Germany or in Singapore than in Cleveland, Ohio or New York.
This radical shift did not happen by accident. 

     Ferguson shows how, since the Reagan administration in the 1980s, both major political parties have become captives of the moneyed elite.  It was the Clinton administration that dismantled the regulatory controls that protected the average citizen from avaricious financiers.  It was the Bush team that destroyed the federal revenue base with its grotesquely skewed tax cuts for the rich. And it is the Obama White House that has allowed financial criminals to continue to operate unchecked, even after supposed "reforms" installed after the collapse of 2008.

     Predator Nation reveals how once-revered figures like Alan Greenspan and Larry Summers became mere courtiers to the elite.  Based on many newly released court filings, it details the extent of the crimes—there is no other word—committed in the frenzied chase for wealth that caused the financial crisis.  And, finally, it lays out a plan of action for how we might take back our country and the American dream.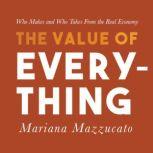 The Value of Everything
by
Mariana Mazzucato
A work of tremendous ambition, academic rigor, and originality, The Value of Everything argues that American companies have for too long been valued according to the amount of wealth they capture for themselves rather than for the value they create ...
Narrator: Randye Kaye
Published: 09/11/2018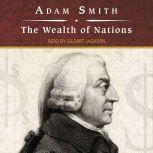 The Wealth of Nations
by
Adam Smith
Adam Smith's masterpiece, first published in 1776, is the foundation of modern economic thought and remains the single most important account of the rise of, and the principles behind, modern capitalism.
Narrator: Gildart Jackson
Published: 12/24/2010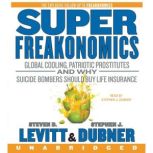 SuperFreakonomics
by
Steven D. Levitt
Freakonomics lived on the New York Times bestseller list for an astonishing two years. Now authors Steven D. Levitt and Stephen J. Dubner return with more iconoclastic insights and observations in SuperFreakonomics—the long awaited follow-up ...
Narrator: Stephen J. Dubner
Published: 10/20/2009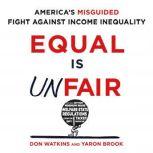 Equal is Unfair
by
Don Watkins
We've all heard that the American Dream is vanishing, and that the cause is rising income inequality. The rich are getting richer by rigging the system in their favor, leaving the rest of us to struggle just to keep our heads above water. To s...
Narrator: Jeff Cummings
Published: 03/29/2016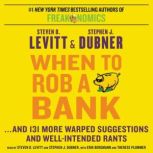 When to Rob a Bank
by
Steven D. Levitt
When Freakonomics was initially published, the authors started a blog—and they've kept it up. The writing is more casual, more personal, even more outlandish than in their books. Now, to celebrate the 10th anniversary of the l...
Narrator: Therese Plummer
Published: 05/05/2015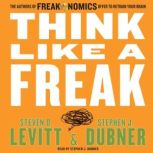 Think Like a Freak
by
Steven D. Levitt
The New York Times bestselling Freakonomics changed the way we see the world, exposing the hidden side of just about everything. Then came SuperFreakonomics, a documentary film, an award-winning podcast, and more.Now, with Think Like a Freak, Steve...
Narrator: Stephen J. Dubner
Published: 05/12/2014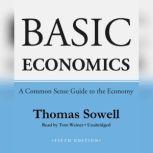 Basic Economics, Fifth Edition
by
Thomas Sowell
In this fifth edition of Basic Economics, Thomas Sowell revises and updates his popular book on commonsense economics, bringing the world into clearer focus through a basic understanding of the fundamental economic principles and how they explain ou...
Narrator: Tom Weiner
Published: 12/02/2014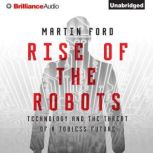 Rise of the Robots
by
Martin Ford
In a world of self-driving cars and big data, smart algorithms and Siri, we know that artificial intelligence is getting smarter every day. Though all these nifty devices and programs might make our lives easier, they're also well on their way to ma...
Narrator: Jeff Cummings
Published: 04/28/2015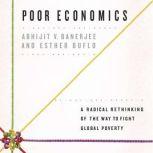 Poor Economics
by
Abhijit V. Banerjee
Two highly regarded economists relay 15 years of research into a smart, engaging investigation of the real nature of global poverty and why current approaches to addressing miss the mark.
Narrator: Brian Holsopple
Published: 01/03/2012

{"id":"318557","ean":"9780307969835","abr":"Unabridged","title":"Predator Nation: Corporate Criminals, Political Corruption, and the Hijacking of America","subtitle":"Corporate Criminals, Political Corruption, and the Hijacking of America","author":"Charles H. Ferguson","rating_average":"4.33","narrator":"Rob Shapiro","ubr_id":"318557","abr_id":"0","ubr_price":"20.00","abr_price":"0.00","ubr_memprice":"13.00","abr_memprice":"0.00","ubr_narrator":"Rob Shapiro","abr_narrator":"","ubr_length":"Unabridged: 13 hr","abr_length":"Abridged: "}