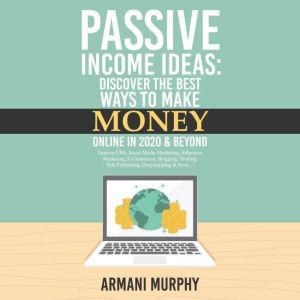 List: $4.99

| Sale: $3.50
Club: $2.49
Passive Income Ideas
Discover the Best Ways to Make Money Online in 2020 & Beyond - Amazon FBA, Social Media Marketing, Influencer Marketing, E-Commerce, ... Self-Publishing, Dropshipping & More...
Format: Digital Audiobook Download
---
Synopsis
Are you looking to make a little extra cash — or even a lot? Are you interested in changing your job, your schedule, and even your lifestyle?Then this is the book for you! Tons of others just like you are looking for less-traditional ways to make a living, as well as seeking careers that fit their schedules. Working online is the perfect answer for them — and it could be exactly what you need, too!Never before in history have there been so many profitable channels to help you generate income — and a huge amount of these result in passive income, which means you can be your own boss, set your own hours, and invest time in your own interests.Best of all, with so many avenues to investigate, you can style your passive income pursuits around your interests, personality, and personal schedule.Have you always dreamed of being a writer? Learn about how you can turn your passion into a career with blogging and self-publishing.Do you have excellent social media skills? Learn how to monetize your hobby with social media marketing as an influencer.Are you highly organized? Learn about turning your valuable traits into valuable income drivers with dropshipping and Amazon FBA.Are you creative with a talent for art, fashion, handmade goods, and other unique items? Learn how you can go from a part-time pursuit to a full-time job that fulfills your dreams as well as your wallet.Whatever your skill set, there's a potential source of income right at your fingertips. All it takes is a little learning!