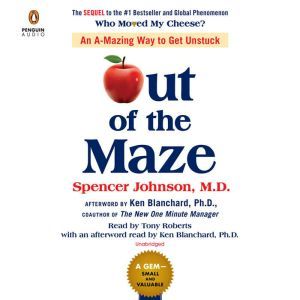 List: $10.00

| Sale: $7.20
Out of the Maze


An A-mazing Way to Get Unstuck

Format: Digital Audiobook Download
---
Synopsis
The long-awaited sequel to Who Moved My Cheese?, the beloved 28-million-copy bestseller that became a worldwide sensation.

In his trademark storybook style that has won tens of millions of fans, Dr. Spencer Johnson once again uses a simple tale to reveal profound truths that can allow you to have less stress and enjoy more success and fulfillment, in your work and in your life.

In Who Moved My Cheese?, two mouse-sized characters named Hem and Haw were faced with unexpected change when the Cheese they loved suddenly disappeared. Haw learned how to deal with that change by setting off in search of New Cheese. But Hem remained stuck where he was. Now Out of the Maze reveals what Hem did next--and how his discoveries will help you unlock the riddle of whatever mazes you may be facing in your own life.

Follow Hem and his new friend, Hope, on their new journey, and you'll discover how to get more out of life by thinking outside the box. Or, in this case, outside the Maze.

Written for all ages and backgrounds, this story takes less than an hour to read, yet its insights can last for a lifetime.