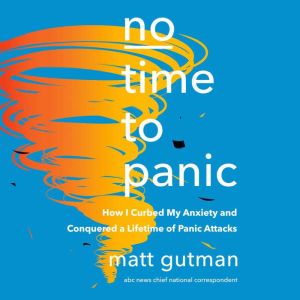 List: $20.00

| Sale: $14.40
No Time to Panic


How I Curbed My Anxiety and Conquered a Lifetime of Panic Attacks

Format: Digital Audiobook Download
---
Synopsis
By ABC News's chief national correspondent, an unflinching look at panic attacks by a reporter whose career was nearly derailed by them, offering readers a guide to making a truce with their warring minds

"Brave, reassuring, and practical...A balm for anyone who has ever suffered panic attacks and who longs to be released from their grip." —Dr. Nicole LePera, #1 New York Times bestselling author of How to Do the Work

"Seamlessly weaves page-turning personal experiences with scientific discoveries…A tour de force." —Ethan Kross, New York Times bestselling author of Chatter

Matt Gutman can tell you the precise moment that his life was upended, even if he can't quite remember it. Reporting live in January 2020, Gutman found himself in the throes of an on-air panic attack—and not for the first time. The truth is that Gutman had been suffering panic attacks in secret for twenty years: gut-wrenching episodes that left his vision constricted, his body damp, his nerves shot. Despite the affliction, he had managed to carve out a formidable career for himself, reporting from war zones and natural disasters before millions of viewers on Good Morning America and World News Tonight. He had always managed to "punch through" his panic, his TV appearances kinetic and often unforgettable.

But Gutman's January 2020 broadcast was noteworthy for all the wrong reasons. Mid-panic he would misstate the facts of a story, a blunder that led to a month-long suspension, not to mention heaps of shame and regret.

It was a wake-up call. Gutman's panic attacks were too much for him to bear in secret. He needed help.

So begins the author's personal journey into the science and treatment of panic attacks. He would talk to the world's foremost scholars on panic and anxiety—they would show him that his mind wasn't broken, merely in need of recalibration. He would consult therapists and shamans, trying everything from group treatment and CBT to ayahuasca and psilocybin. And he would take a hard look at the way the trauma of his youth—including his father's death in a plane crash at forty-two—still reverberated inside him.

Unsparing, perceptive, and often funny, this is the story of a panic sufferer who decided to take on the monster within. Filled with wisdom and actionable insights, it's both an inspirational journey and a roadmap—if not toward a singular cure, then to something only more worthy: peace of mind.