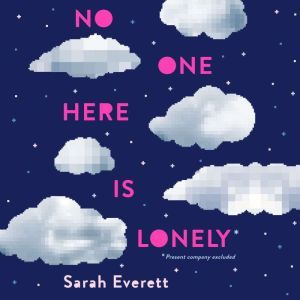 List: $25.00

| Sale: $18.00
No One Here is Lonely
Format: Digital Audiobook Download
---
Synopsis
Our entire lives are online, but what if the boy you love actually lives there? For fans of Adam Silvera comes a story about the future of relationships.

Eden has always had two loves: her best friend, Lacey, and her crush, Will. And then, almost simultaneously, she loses them both. Will to a car accident and Lacey to the inevitable growing up and growing apart.

Devastated by the holes they have left in her life, Eden finds solace in an unlikely place. Before he died, Will set up an account with In Good Company, a service that uploads voices and emails and creates a digital companion that can be called anytime, day or night. It couldn't come at a better time because, after losing Lacey--the hardest thing Eden has had to deal with--who else can she confide all her secrets to? Who is Eden without Lacey?

As Eden falls deeper into her relationship with "Will," she hardly notices as her real life blooms around her. There is a new job, new friends. Then there is Oliver. He's Lacey's twin, so has always been off-limits to her, until now. He may be real, but to have him, will Eden be able to say goodbye to Will?

Sarah Everett deftly captures the heartbreak of losing your best friend and discovering love in the unlikeliest of places.