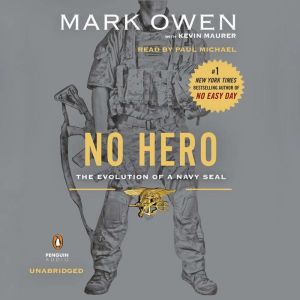 List: $17.50

| Sale: $12.60
Club: $8.75
No Hero
The Evolution of a Navy SEAL
Format: Digital Audiobook Download
---
Synopsis
The companion volume to the multimillion-copy bestseller No Easy Day by former Navy SEAL Mark Owen reveals the evolution of a SEAL Team Six operator.

Mark Owen's instant #1 New York Times bestseller, No Easy Day: The Firsthand Account of the Mission that Killed Osama bin Laden, focused on the high-profile targets and headline-grabbing chapters of the author's thirteen years as a Navy SEAL. His follow-up, No Hero, is an account of Owen's most personally meaningful missions, missions that never made headlines, including the moments in which he learned the most about himself and his teammates in both success and failure.

Featuring stories from the training ground to the battlefield, No Hero offers readers a never-before-seen close-up view of the experiences and values that make Mark Owen and the SEALs he served with capable of executing the missions that make history.