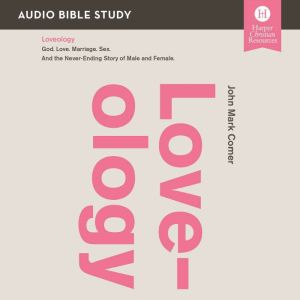 List: $14.99

| Sale: $10.50
Club: $7.49
Loveology: Audio Bible Studies
God. Love. Marriage. Sex. And the Never-Ending Story of Male and Female.
Format: Digital Audiobook Download
---
Synopsis
In the beginning, God created Adam. Then he made Eve.And ever since we've been picking up the pieces.Loveology is a theology of love from God's point of view. The five sessions start with God's design for marriage and works backward, dealing with sexuality, romance, singleness, and what it means to be male and female. Pastor and writer John Mark Comer shares about what is right in male/female relationships—what God intended in the Garden. And about what is wrong—the fallout in a post-Eden world.The Loveology audio Bible study is for anyone who wants to learn what the Scriptures have to say about sexuality and relationships and for people who want to ask the why questions and get intelligent, grace-and-truth answers.As you walk through this five-week study, you will come to better understand what God fully intended back in the garden. By comprehending the brilliance behind God's original plan for love and marriage and sex and romance—if we can redefine that fuzzy, amorphous, confusing word "love" and look at it through the lens of Jesus—your relationships will be radically altered as a result.Sessions include:Love (13:00)Marriage (22:00)Sex (12:00)Romance (16:00)Singleness (18:00)Coordinating study guide available separately. The Audio Bible Studies series provides a unique audio learning experience. Unlike a traditional audiobook's direct narration of a book's text, this audio Bible study includes high-quality, live audio sessions from the author that cover important Bible-based topics. These sessions will reflect the ambiance of the unique recording locations, immersing the listener into the teaching. While not required for the audio experience, these studies are designed to partner with the coordinating study guide, sold separately.