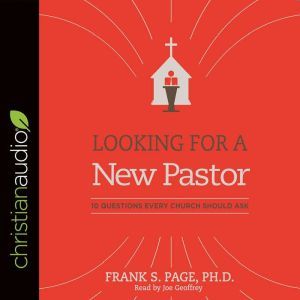 List: $9.98

| Sale: $6.99
Club: $4.99
Looking for a New Pastor
10 Questions Every Church Should Ask
Format: Digital Audiobook Download
---
Synopsis
Your senior pastor has just stepped down. Your church is at a loss. Where do you go from here?

Looking for a New Pastor: 10 Questions Every Church Should Ask, is a product of more than three decades of full-time, pastoral ministry from Frank Page. This is truly one of the most practical works on the subject that has ever been published. Using Scripture as the foundation and real-life examples of searches done well and searches gone bad, Frank Page gives advice on what to look for, what to ask, and what to do.

Looking for a New Pastor uses insider experience and information to answer questions that all search committees ask. It lists warning signs for every church, and includes questions that churches and prospective pastors alike wish they had known to ask. Looking for a New Pastor deals with the "how-to" of a pastor search, but more importantly, it deals with the "why" and "why not."

The importance of having a pastor who will shepherd your flock well cannot be overstated. With this book, Frank Page has provided a great resource for churches seeking to discern the will of God in their search for a pastor.