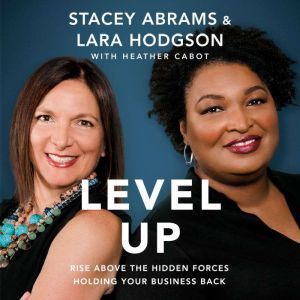 List: $20.00

| Sale: $14.40
Level Up


Rise Above the Hidden Forces Holding Your Business Back

Format: Digital Audiobook Download
---
Synopsis
A must-read guide for small business owners navigating a critical turning point: when you either level up or give up.

It's never been easier to start a business--and it's never been harder to scale it. Half of new businesses in America don't make it past five years. Stacey Abrams and Lara Hodgson want to help today's entrepreneurs beat the odds by revealing the unseen tethers that keep small businesses from growing and thriving.

Drawing on firsthand experience starting and scaling multiple companies over nearly two decades, Now® cofounders Abrams and Hodgson crystallize their hard-won advice into a single how-to, got-to guide for small business owners. In Level Up, they share intense behind-the-scenes stories of building their own businesses, as well as actionable, get-it-done principles for founders looking to propel their ventures forward.

This is straight talk from the trenches on real issues like hiring, identifying a revenue strategy, recognizing when growth is a trap, and managing cash flow, from a duo that's been there. Abrams and Hodgson also elevate and share the experiences of other successful founders including, Jules Pieri of The Grommet, Alisa Clark of Glory Professional Services, and Sheila Jordan of Knowledge Architects.

New businesses started by entrepreneurs drive net new job growth. Yet, for the last four decades, startups have increasingly struggled to overcome a system of red tape and barriers to capital and commerce. As a new generation of founders launches a flurry of firms in the wake of the pandemic recession, Abrams and Hodgson offer key insights and support to help entrepreneurs break free and get to the next level.