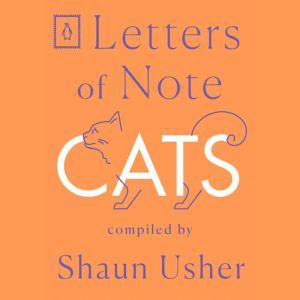 List: $12.50

| Sale: $9.00
Club: $6.25
Letters of Note: Cats
Format: Digital Audiobook Download
---
Synopsis
An irresistible new volume of affectionate missives about our feline companions from Charles Dickens, Anne Frank, Raymond Chandler, Elizabeth Taylor, and more, from the author of the bestselling Letters of Note collections

Florence Nightingale sends care instructions to the woman who has just adopted her angora tomcat Mr. White. T. S. Eliot issues a rhyming birthday party invitation to all Jellicle cats for his four-year-old godson. Jack Kerouac's mother grieves at the death of the family cat. Jack Lemmon winkingly suggests to Walter Matthau that they go in on a cat ranch in Mexico. This utterly charming collection offers a warm and friendly look at the place that cats occupy in our hearts and lives. These thirty letters capture the profound delight of having or observing a cat, and they reveal a keen insight into feline nature as well as our own.

Letters of Note: Cats also includes audio exclusive bonus content drawn from recordings made at performances of Letters Live, the live events series produced by Canongate in partnership with SunnyMarch and Shaun Usher. Listen to Toby Jones reading John Cheever's letter to Susie Herbst and an ensemble cast reading a flurry of letters to the Guardian on the hotly contested topic of 'cats vs dogs'.