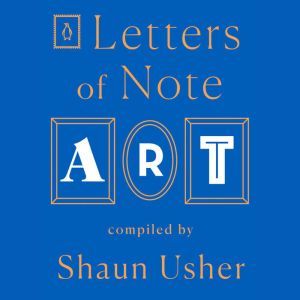 List: $12.50

| Sale: $9.00
Letters of Note: Art
Format: Digital Audiobook Download
---
Synopsis
A splendid new volume of missives about art, from the author of the bestselling Letters of Note collections.

Vincent Van Gogh curses the stare of the blank canvas. Salvador Dali contemplates mailing a piece of his 'lobster-colored pajamas' to Federico Lorca. Hollis Frampton, to the MoMA, demands that artists be paid. The dean of students at San Francisco Art Institute argues to Alicia McCarthy, in very stern words, that graffit is not art but, rather, a "pain in the ass." In a letter to the editor, Martin Scorsese defends and celebrates Fellini's filmmaking. This collection celebrates extraordinary correspondence about art, from missives on the agony of being overlooked, the ecstacy of producing work that excits, to surprising sources of inspiration and rousing manifestos. These thirty letters show us the many ways that art and life can intersect, and what we talk about when they do.

Includes letters from Carl Jung, Mary Cassatt, Mark Rothko, Oscar Wilde, Frida Kahlo, Mick Jagger, and more.